Termite Inspection And Control
Termite Inspection And Control
Termites may be tiny, but they are one of the biggest pest problems for many property owners. They exist within thousands of homes and businesses across Florida. In fact, of all the states, ours has the highest risk for termite attack simply because of one thing: our weather condition. Florida's warm and humid climate creates the perfect environment for these destructive pests to breed and invade. When left untreated, they can cause more structural damage than fires, storms, and floods combined and lead to costly repairs that are not usually covered by your homeowner's insurance.
Haynes Pest Control is the answer to your search for effective termite control near me. Since 1972, our team has been providing high-quality termite treatment and termite control solutions in the Florida area. We have comprehensive termite control packages to protect your property from these pests, and give you peace of mind all year long!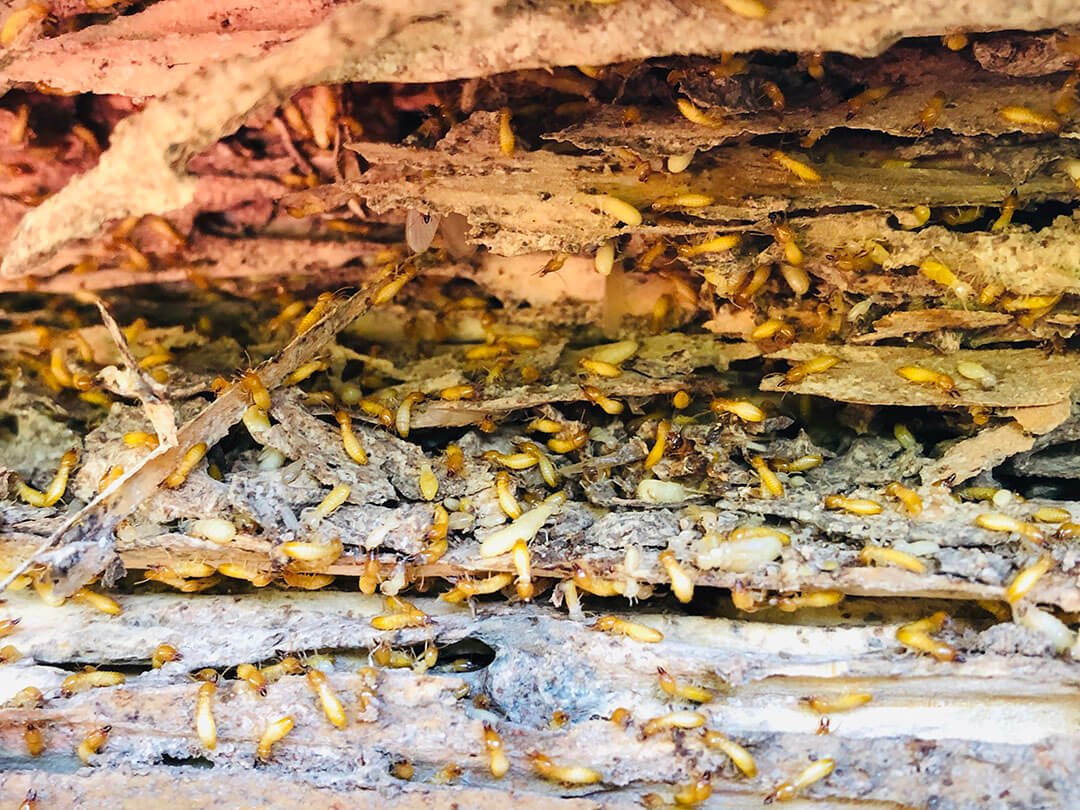 TERMITE DAMAGE IN FLORIDA
What makes termites very dangerous is the fact that they work behind the scenes. These so-called "hidden invaders" feast on your Florida home's wood and chew through floors, walls, decks, door frames, and furniture without showing any signs of early damage.
Because of their silent attacks, they can be incredibly difficult to detect and eradicate. They eat 24 hours a day, seven days a week, and will continue to damage your property as long as you let them. If that's not scary enough, here are more staggering facts:
Florida deals with several species of termites. The most destructive type is the Subterranean termites, which can cause over $5 billion in property damage annually. 

Termites are insects with the most extended lifespan. They can live between 30 and 50 years.

Queen termites can lay an egg every 15 seconds and produce 10 million eggs in a single year.

Given the number of eggs a queen termite can produce, termite colonies expand so fast. Some species can even build colonies that are 30 feet high.

Florida has an average of 13-14 termite colonies per acre of land. 

Wood damage from termites can lead to major issues, such as cracked walls, sagging ceilings, uneven floors, bubbling wallpapers, and ill closing doors and windows. What's worse—most insurance companies do not cover these damages.
Don't let termites make a meal of your Florida home! Get in touch with Haynes Pest Control for the best termite control near me. We provide unmatched termite inspection, termite control, and termite treatment in the Sebring and central Florida areas.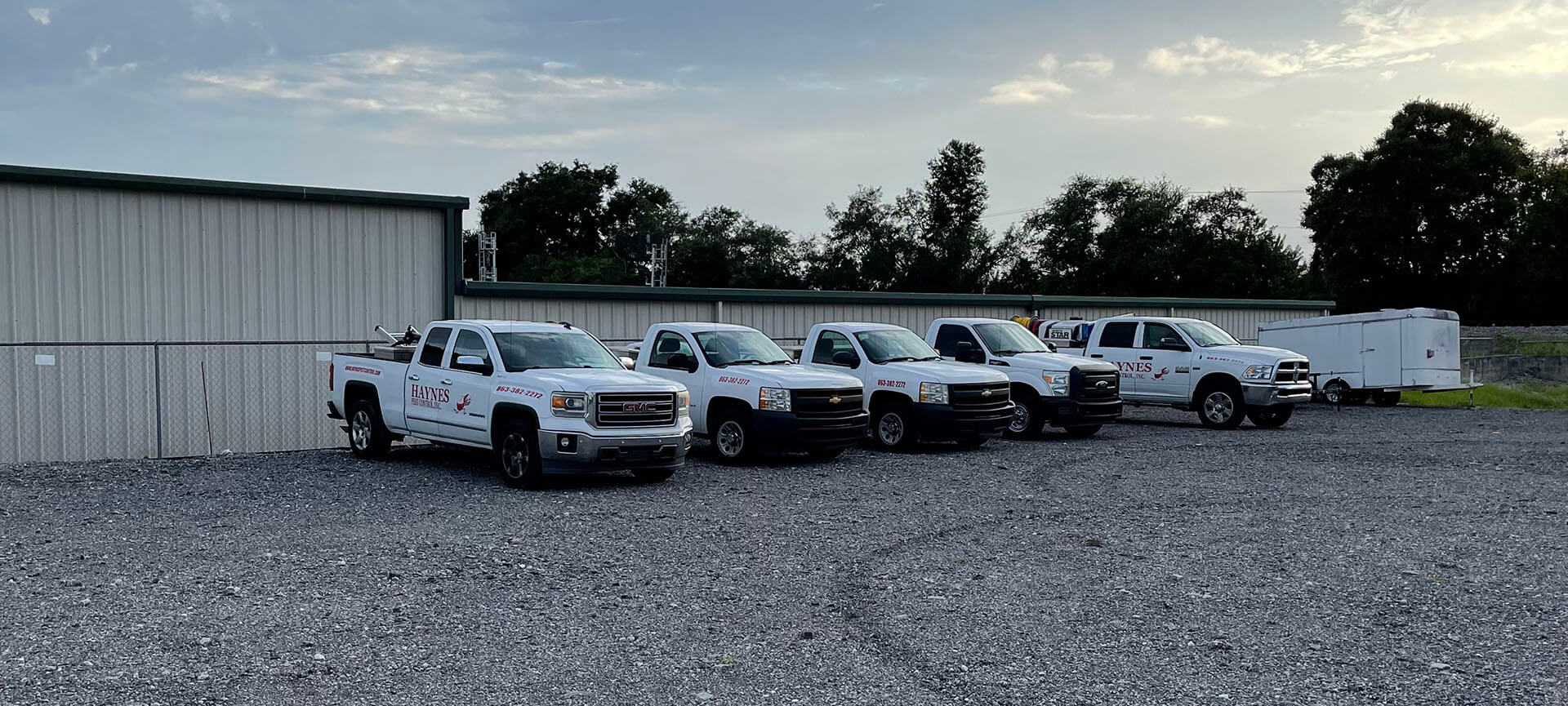 KEEP YOUR FLORIDA HOME TERMITE-FREE!
If you're living in a sunshine state like Florida, where termites are more widespread, it is vital to maintain your home regularly and always keep an eye out for evidence of these wood-destroying pests. Here are some warning signs of termite infestation:
Mud tubes on your home's exterior

Discarded wings near windows and doors

Discolored drywalls

Pinpoint holes in drywalls

Stiff doors and windows

Bulging or drooping ceilings

Exterior wood damage

Squeaky floorboards
It is also essential to identify the type of termite that's invading your home so you can determine the right termite control plan to take. Florida is home to numerous termite species. But the most common are the Eastern Subterranean Termites, Dampwood Termites, Drywood Termites, and Formosan Termites. Damages caused by these species can cost you thousands of dollars in home repairs.
No matter what type of termite your Florida property has, you need to have an effective termite control and termite treatment plan so you can stay free of termites for years to come. Haynes Pest Control can offer you exactly that. Our annual termite control packages will give you guaranteed protection against these unwanted house guests and leave you worry-free for all 12 months.
GET YEAR-LONG PROTECTION AGAINST PESKY TERMITES!
Termites are a year-round problem in Florida. These pests work non-stop, chewing on your walls and ceilings 24 hours a day, seven days a week, 365 days a year. Considering that, there is no wrong time to seek help from the termite treatment team at Haynes Pest Control. We have affordable termite control packages that will give you a year-long defense against termites and the costly damages they can bring to your Florida property.
Call us today at 863-382-2272 or check out our comprehensive termite control plans to stay termite-free every season of the year!
WHAT TO EXPECT WITH OUR TERMITE CONTROL PACKAGES:
CONTACT OUR TERMITE CONTROL EXPERTS!
Searching for effective and affordable termite control near me? Turn to Haynes Pest Control. Our termite control specialists are experts in what they do. We are in the field every day, inspecting and protecting Florida homes from termites and utilizing techniques and products that have been proven to work well over time in our tropical weather conditions.
With our decades of experience, effective termite treatment methods, and affordable termite control packages, we can meet the needs of your Florida residential or commercial property. Contact Haynes Pest Control at 863-382-2272!
FOR LESS THAN $1 A DAY, WE'LL KEEP THE BUGS AWAY, INCLUDING TERMITES!